SimpleCPD
Locally developed app a breakthrough in managing professional development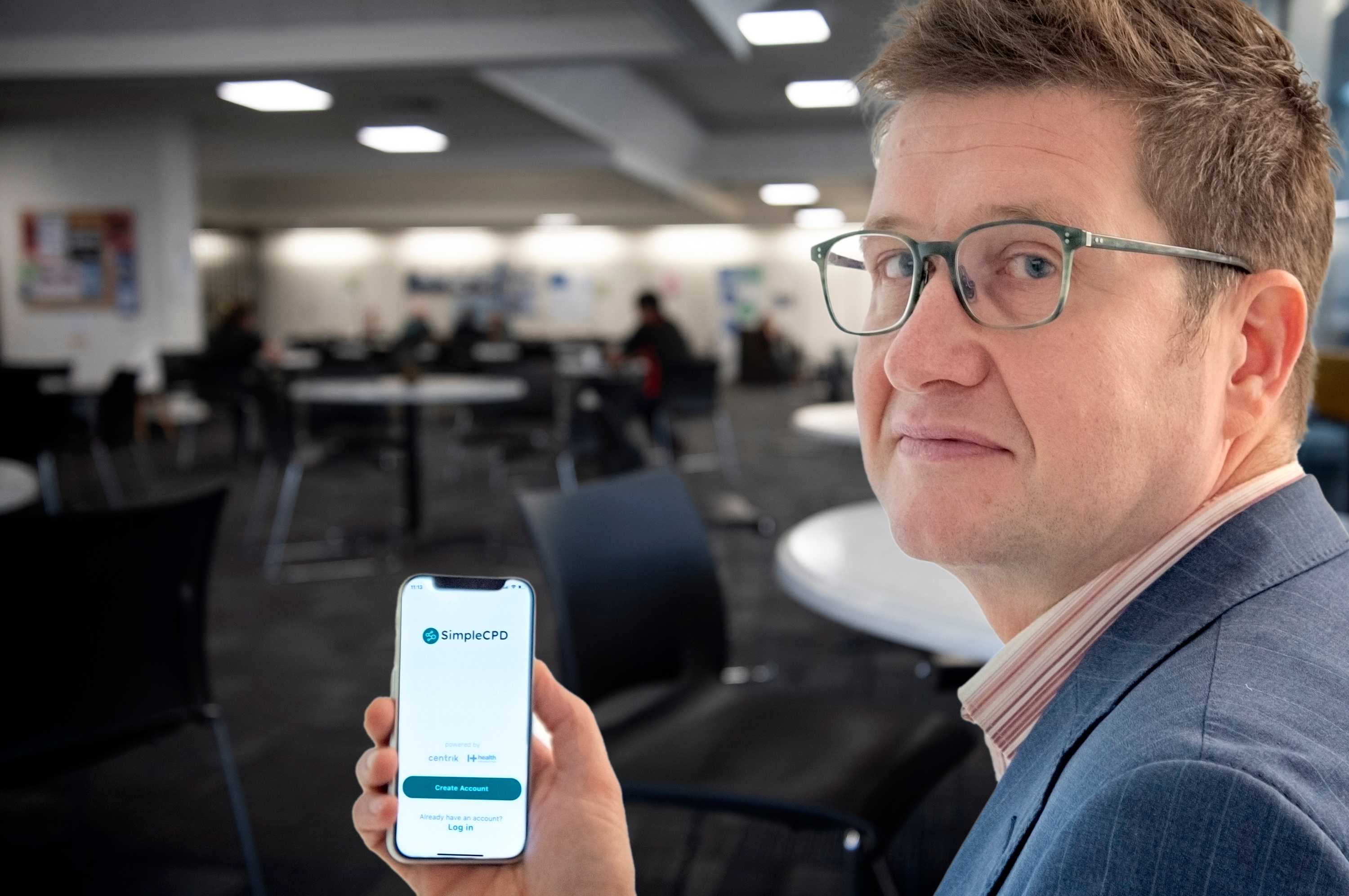 An innovative, locally-developed app is providing a simple way for clinicians to keep track of their professional development and training.
SimpleCPD was developed by Christchurch anaesthetist Christian Brett, in association with the New Zealand Health Innovation Hub (NZHIH), to meet the needs of health professionals who must meet rigorous professional development requirements to maintain their professional certification.
With multiple training providers and no centralised system for recording professional development (CPD), keeping track of training and development activities has long been a challenge for clinicians – often relying on administrative staff to maintain paper-based records.
Christian says the impetus for developing the app came from his time as education supervisor for junior doctors at Christchurch Hospital, mentoring and overseeing their professional development.
"At the time we ran the teaching programme with hard-copy attendance records, which was time-consuming both for administrators and users," he says. "I wanted to see how we could use technology to improve the system, and find a way to keep automated records."
Drawing on his interest in technology, Christian began developing an app that would enable health professionals and administrators to track and record attendance at training and development events, with a straightforward interface for training providers to link into the system.
In 2017 he approached then-Canterbury District Health Board's Via Innovations unit for support in building a provisional prototype.
"We developed a rough beta version which I evaluated with the junior doctors I was supervising at the time," Christian says. "It was successful and easy to use, even in its initial form. We had over 1000 users during this testing phase, so the concept was well proven."
Via Innovations connected Christian with NZHIH and Matt Nicholson, Commercialisation Manager for the project. Matt works alongside innovators to assess their ideas and inventions and guide them through the commercialisation process, including identifying and protecting IP and engaging with the market to test the opportunity.
With SimpleCPD a working prototype was already in place so the focus was on the additional coding and technical work needed to complete the project. NZHIH was able to access co-funding via Kiwinet to support commercialisation, with the goal of preparing the technology for the market.
NZHIH connected with Ōtautahi/Christchurch tech company Webtools, who brought a strong track record of developing digital tools for Aotearoa's health sector.
The Webtools analysis and design team worked with Christian to scope requirements and functionality. They took an agile approach with regular review and feedback meetings, adjusting the product's features as required to ensure it would best meet user needs.
Webtools Client Success Manager Paulina Woch says it took two months to complete and launch a production-ready app for attendees and web console for event organisers.
"Deployment of phase one of the product went smoothly with SimpleCPD now being used at training events across Waitaha Canterbury and ready to be expanded to training providers across the motu," she says.
"Christian and the Webtools team are already working on phase two product enhancements to further streamline event creation with detailed templates, reporting features, and the ability to discover upcoming events within the app."
Matt Nicholson agrees SimpleCPD has tremendous potential for further development. "In the short term, we would like to see it developed for wider use by trainee doctors, but also across the wider health sector as a simple and efficient system for monitoring and reporting all kinds of professional development and training events."
By the time SimpleCPD was launched in mid-2023 the app had over 500 active users within the Waitaha Canterbury hospital system, across multiple departments, as well as the Medical Education Training Unit.
Christian also hopes other disciplines will make use of the technology. "It definitely has opportunities beyond the hospital setting – for other parts of the health workforce, and the private health sector, for example. But also for other organisations and disciplines such as the legal profession, where there are CPD requirements or a need to manage training."
For download links and more information about SimpleCPD visit www.simplecpd.app
SimpleCPD: How it works
Training providers access the SimpleCPD web console to set up a new event with programme details including subject categories, claimable hours and any attached documents.
The app generates a one-off, time stamped QR code, which is displayed at the event. Attendees scan the QR code using the SimpleCPD mobile app, which registers their attendance with the organiser.
The system also emails a certificate of attendance and creates a continuing personal learning record, which can be uploaded to the relevant college for annual CPD requirements.
There are further enhancements in the pipeline including extending the app for use with virtual/online events, and push notifications to alert users to upcoming events in their areas of interest.